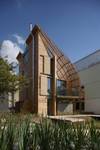 Sustainable innovation is a founding principle of the practice, and is fully integrated into our designs and business processes, across Sheppard Robson, ID:SR and AXIS. From designing the first zero carbon home to delivering the greenest office building in the Middle East, our track record of improving the efficiency of buildings and spaces is significant and far-reaching.
We have a history of setting new standards in design efficiency, highlighted by projects such as the Siemens Middle East Headquarters and the Lighthouse. Starting with a fabric-first approach, we balance passive design principles and carefully considered active design measures to ensure that efficiency is built-in to our designs from the outset. We produce simple, effective, efficient designs that are future proofed to adapt to new technologies and climate change.

As we strive to reduce operational energy consumption and improve building performance, embodied carbon plays an increasingly important role in reducing the whole life carbon footprint of our buildings and places. We embed holistic, whole life carbon thinking into each stage of our design process, considering re-use, design life, recycled material specification and end-of-life. This is demonstrated in our designs at the Sammy Ofer Centre, which breathes new life into an existing building, and at Waingels College, which utilises low embodied carbon materials.

Social value refers to the impacts that people experience from economic, environmental and social processes; we set, monitor, feedback and report on social sustainability targets, to help our clients realise meaningful societal impact. We contribute to the social value of communities through designs, business operations, and engagement processes, with exemplar projects such as the Barony Campus and 245 Hammersmith Road.

We have a proven track record of integrating health and wellbeing considerations into varied client briefs and delivering projects that set the standard for health and wellbeing in design, such as Deloitte and BBC Cymru Wales Central Square. We have extensive experience in environmental rating systems, such as WELL and SKA, to evaluate the level of health and wellbeing of our designs and ensure that these criteria can be robustly embedded, monitored and measured.

Implementing a sustainable design agenda within every project is realised through our Design Review process. Our Design Delivery Group of experienced architects and sustainability experts review projects at key stages to promote the efficient and competent delivery of projects through to completion. We measure and feed post-occupancy data back into the design process, providing measured design solutions for our clients.
We are ISO certified and monitor our carbon emissions annually; we are always looking for new opportunities to improve the efficiency of our internal operations. Through continued efforts to reduce the environmental impact of our business, we have reduced our gross overall carbon footprint (energy sources) by 59.25% from baseline year 2008/09 to 2020/21. Compared to 2019/20, there was a 5.24% decrease in gross emissions from gas and electricity in reporting year 2020/21.

Sustainability + Innovation Charter
Our approach to design is driven by the fundamental belief that sustainability should not compromise function or beauty. Good design should be informed by an ambition to improve efficiency and reduce the building's carbon footprint and consequently the impact on climate change, underpinned by the principles of the UN Sustainable Development Goals. We believe that optimisation will come from our dexterity and unwavering focus on the big picture, delivered through seven key tenets, as outlined in our ↓Sustainability + Innovation Charter:
1
Promote
Promote environmentally and socially responsible practice, innovation and action.
2
Establish
Establish ambitious and achievable mitigation targets and indicators. Monitor and Verify.
3
Employ
Employ sustainable design principles aligned to the RIBA 2030 Sustainable Outcomes.
4
Evaluate
Evaluate in-use project performance in order to inform and optimise.
5
Realise
Realise a comprehensive methodology for net zero whole life carbon.
6
Integrate
Integrate health, wellness and fairness considerations into practices and operations.
7
Share
Share knowledge, research and data in an effective and considered manner.